What's Going on at the Cameo Shooting and Education Complex
This page is updated frequently in order to keep you in touch with all the goings-on at CSEC. It's definitely worthwhile checking back every couple of days, as there is a lot happening at CSEC and things are changing quickly. For a quick summary of the major events coming up this year, see the new Events Page
---
Chandler Challenge
June 14, 2023: Does your rifle shoot sub MOA? Can you shoot sub-MOA? You better, if you are going to complete  the Chandler Challenge. This contest requires you to hit each of the 12″ x 12″ targets at or beyond 1,000 yards. 
For more details, check out the Chandler Challenge page.
---

Inaugural Ultimate Hunter Archery Competition Held at CSEC
May 18, 2023: On Saturday, May 13th the first ever Ultimate Hunter Archery Competition was held at Cameo. Seventeen archers competed over 5 stages of 3 targets per stage. Cameo's own Vallerie Kunz was the overall winner by a large margin. The final scores are posted here.
The Ultimate Hunter Archery Competition (UHAC) uses typical hunting gear to engage 3-D targets at ranges out to 50 yards. Competitors have 180 seconds to find, range and hit three targets at each stage. The targets have marked zones used in scoring the match, where the score for each stage is the sum of the scores divided by the time it took to hit all three targets. This makes speed important as well as accuracy, as it would be in a hunting scenario.
The plan is to host monthly UHAC matches at CSEC. Keep an eye on the CSEC calendar or the Ultimate Hunter calendar for the dates.
---
Summer Hours Are In Effect
As of March 15th, CSEC is observing Summer Hours of Operation:
Public Shooting Bays, Archery Bay and 3D Archery Courses: 7:00 AM to 7:00 PM, 7 days a week.
Sporting Clays Courses: 7:00 AM to 6:30 PM, 7 days a week.
5-Stand: 10:00 AM to 2:00 PM on the 1st Sunday, 2nd Saturday, and 3rd Sunday of each month.
LRP: 8:00 AM to 6:00 PM every Tuesday, Thursday, Saturday & Sunday, (unless closed for an event, please check the calendar for range availability) Call the range office at (970) 464-1339 to make a reservation at least one business day in advance. Reservations are not accepted for dates more than 1 month in advance. The LRP is also available for private reservations on non-public days.
---
CSEC is Proud to Welcome Magnetospeed as Our Latest Corporate Partner/Sponsor
January 2, 2023: We are proud to feature Magnetospeed products and welcome them as a corporate partner. The LRP uses T1000 Target Hit Indicators.
The T1000 units provide a bright red sequence of flashes that are easily visible all the way from down range, even in broad daylight. The LRP currently has 33 targets from 450 yds out to 2003 yds equipped with these target flashers. (The targets at closer ranges do not need them.) The match pack provides 10 T1000 units.
Here is a video of a hit on the 1,000-yard 48″x48″ steel target, showing the T1000 in operation:
---
Major Events at CSEC in 2023
December 20, 2022: A number of major events are already scheduled at CSEC in 2023. Here is a preliminary list of the ones on the calendar so far:
April 1, 2: CBA 3D Shoot
April 14 – 16: Koenig/Ruger PRS Championship Match
April 22 – 23: Heligunner
April 24 – 30: A Girl and a Gun National Conference
May 25 – 28: Rocky Mountain Regional IDPA Championship
May 27: Precision Rifle Series (PRS) Regional Championship
July 22: Precision Rifle Series (PRS) Regional Qualifier Match
August 19 – 20: Guardian Long Range Rifle Match
September 29 – October 1: Ruger International Revolver Championship
November 4 – 5: Whistlepig Western Slope Championship Steel Challenge Match
These are only the events that have been confirmed so far this year. Be sure to check back as new events are added to the calendar. As details become available, links will be posted here.
---
Monthly Matches at CSEC
December 19, 2022: Nearly every month there are regularly-scheduled shooting matches held at Cameo. Matches are run by the Action Pistol Group (APG), Western Colorado Precision Shooters  (WCPS) or A Girl and A Gun (AGAG).
These matches are all open to the public, to compete, or even just to watch.
Matches usually require registration in Practiscore.
Match dates are subject to range availability if there are conflicts with major events scheduled, so be sure to check the CSEC Calendar of Events.
---
Weather Station Installed on the LRP
December 19, 2022: A weather station has been recently installed on the LRP to assist long range shooters by providing wind, temperature, humidity and barometric pressure data. This information is typically input to ballistic calculators to provide the holdover needed for long range and extreme long range target shooting. The new weather station, manufactured by Ambient Weather, provides an illuminated LCD display.
Due to the lack of WiFi coverage at the LRP, it is not possible at this time to access the weather station remotely. It is planned to eventually provide this ability.
---
Ultimate Hunter Match held at Cameo in December
December 19, 2022: The December Ultimate Hunter match was held in the LRP Terrain Park on December 10th. 19 shooters competed on the 5-stage course, shooting at targets out to 500 yards. Local marksman Eli Harrison won the match. This match is fired using typical inexpensive gear that most every hunter already has
Matches are run by Western Colorado Precision Shooters and are held on the second Saturday of every month at Cameo.
For more information, check out ultimate-hunter.com and the WCPS Facebook page.
---
Bighorn Sheep at Cameo
October 23, 2022: It's that time of year again, and the mountain bighorn sheep at Cameo are very much in evidence. If you are interested in seeing them, stop in at the office or talk to a volunteer, and they can tell you where the sheep were last seen. These pictures were taken on October 22.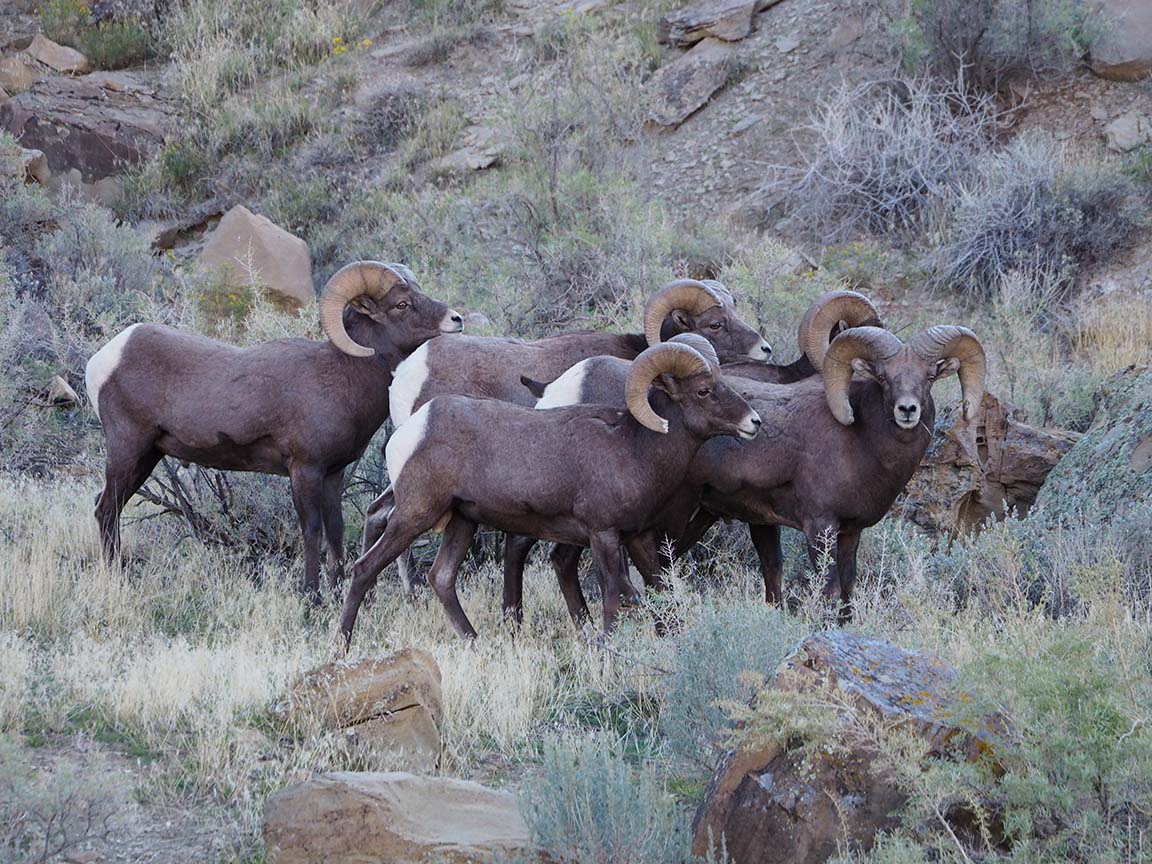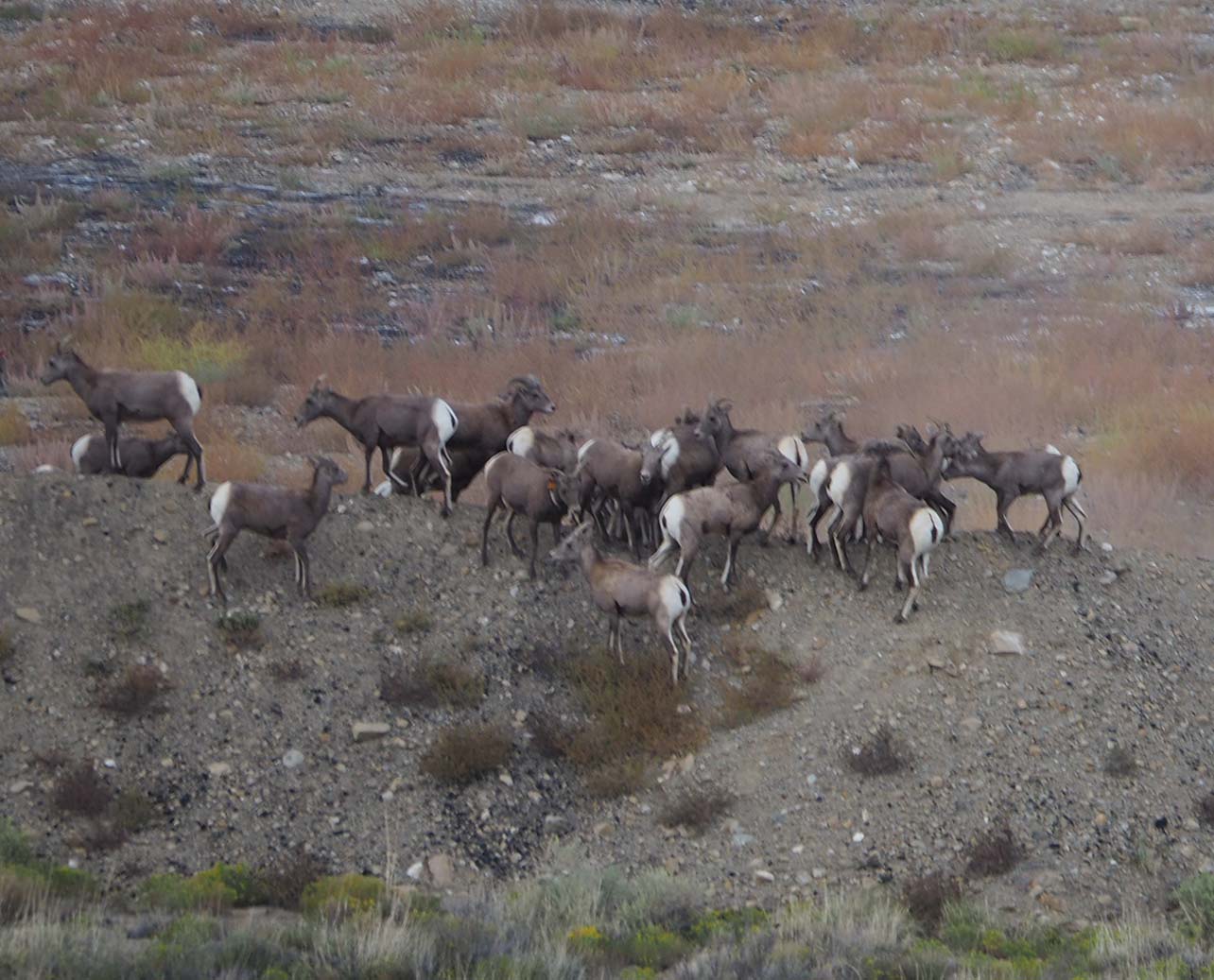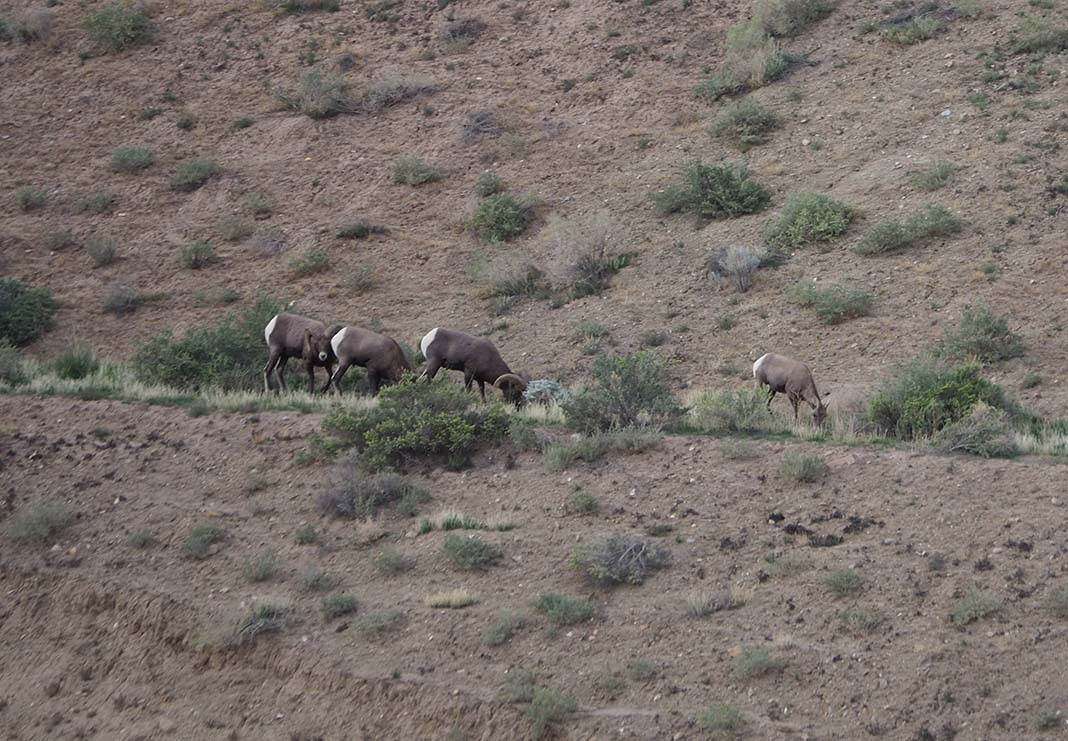 ---
Box for a Cop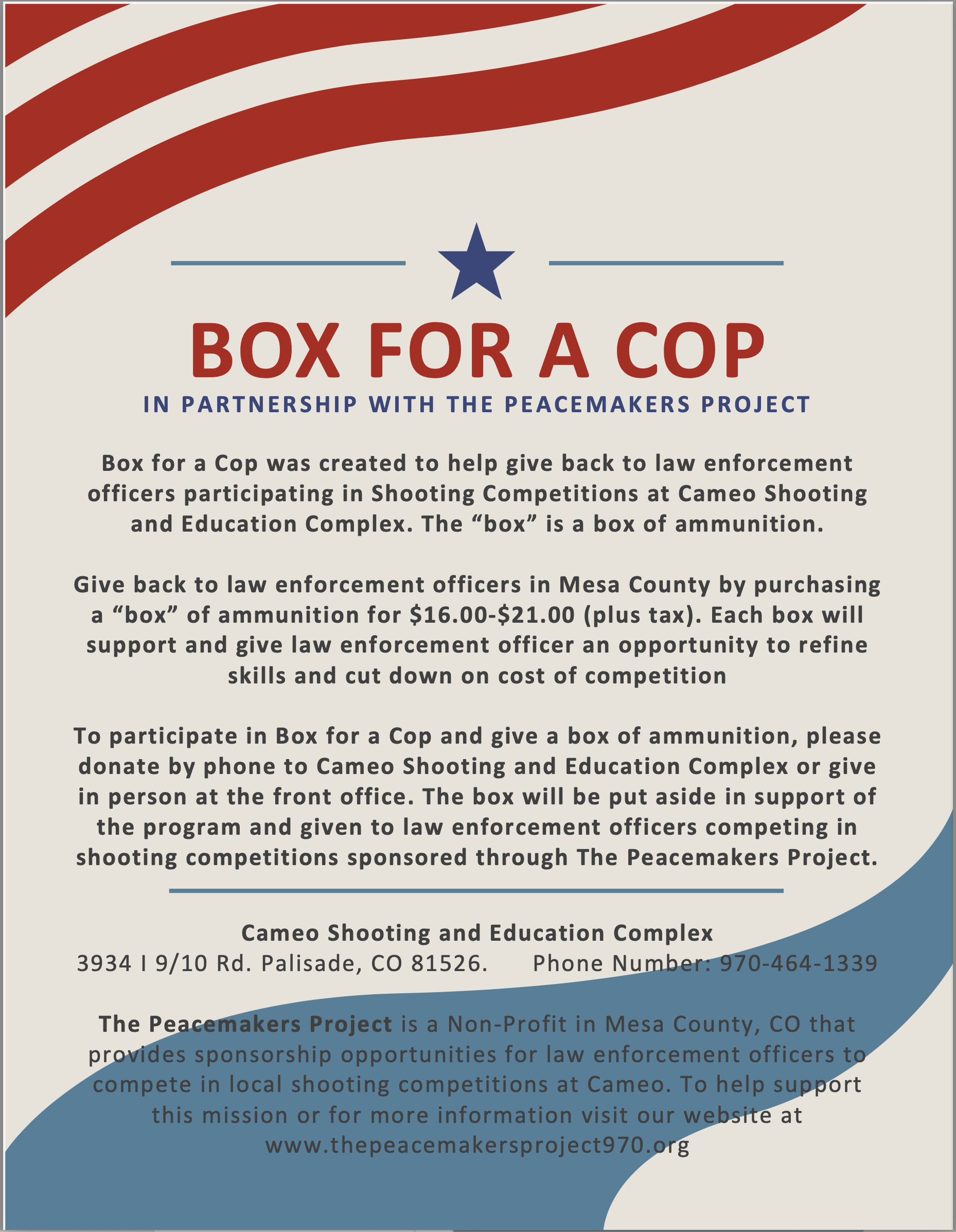 ---
LRP Wind Drift Estimator
May 12, 2022: Brian Young, LRP RSO, has worked up a wind drift estimator that has proven to be extremely accurate out to 2,000 yards at the LRP. You can read about it here.
---
LRP Nears Completion/New Rates 
May 12, 2022: During the summer and fall of 2021 with generous donors, and the efforts of CSEC volunteers the LRP Pavilion and Event "Stats Shack" were built, bringing the LRP/Terrain Park vision as a World Class facility to completion. There are now eight shooting positions each accommodating prone and bench firing opportunities, all under a 3,200 sq-ft building with a 12′ roof overhang, providing protection from sun, rain, and snow. Thirty-five targets out to 2003 yards are available, almost all with electronic flashing-light hit indicators. Public Use, User group, F-Class, and Positional Shooting firing lines as well as downrange wind flags, gun racks, and picnic tables are provided. The LRP Pavilion is wired for electrical outlets, lighting, and electronics  with electrical power rental available. 
WiFi access, power, storage space, additional sound insulation, and a weather station are in the near future plans. 
New rates … 
The vision and goal of creating a World Class long range precision shooting venue (LRP) has always been to provide the public with a rare and unique shooting opportunity at an affordable price. With the added facilities, growth and refinement of the LRP, the cost of operation and maintenance has increased significantly. Raising rates is necessary to cover the increased costs associated with the improvements. The new rates will be as of 1 July, 2022: 
NEW LRP RATES EFFECTIVE JULY 1, 2022
*Rates are per 2 hour block of reserved bench time and are per person.
Annual Pass Holder: $12.00
Non-Annual Pass Holder: $20.00
Youth (17 and under): $3.00
Private Party/User Group reservation per day: $250 or $20/person (whichever is greater)
*All Private Party/User Group reservations require a $250 non refundable deposit.
---
Take a Look at the Future Plans for CSEC
September 16, 2021:  Check out the Future Developments page.
---
Chronograph Service
Have a load for your rifle or pistol for which you want to know its actual velocity through your gun? CSEC is now offering a chronograph service. See the Chronograph Service page for more details.
---
Schedule the Use of the Long Range Precision Course on a Non-Public Day
Users wishing to use the LRP on days other than the scheduled public days may now do so. Scheduling must be done a week in advance to provide time to schedule a Range Safety Officer. Scheduling is subject to availability of range and Range Safety Officers.  Call the Range Office at (970) 464-1339 to schedule.
---
 Fired brass available for sale at CSEC office
CSEC has fired range brass in 10 pound bags available at the range office. The brass is available in a number of pistol and rifle calibers. See the Range Office page for details.