Welcome! Colorado Parks and Wildlife is proud to present the Cameo Shooting and Education Complex.
Comprising 2500+ acres, the CSEC facilities are in their third year of development. What you see here today is Phase 1B. There is much more construction on the way, followed by additional phases in the next few years.
The goal is building a 'world-class' shooting and education facility like no other in the United States, or perhaps the world!
This will be a place to enjoy high-end competitive events, recreational shooting, firearms training and practice, and a place where kids can learn about the outdoors.
Enjoy YOUR world-class range!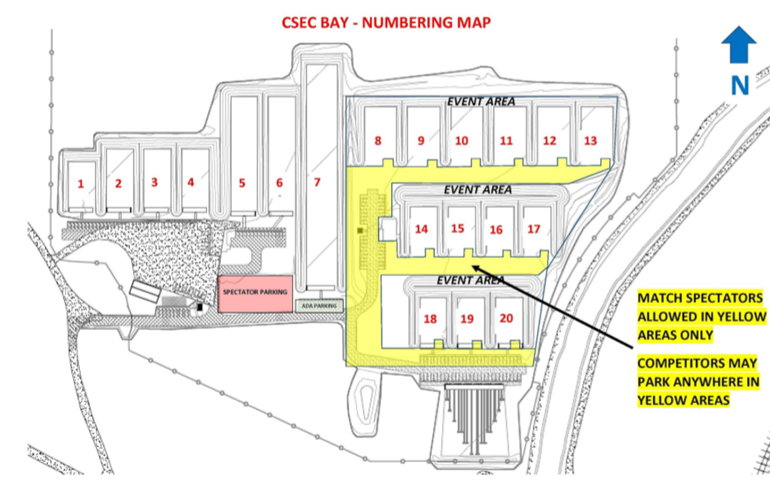 Current CSEC Facilities Available:
Range Office
          Check-In
           Retail Sales
Ear and Eye protection, Targets, Ammunition
CSEC Clothing, Hats, Mugs, Glasses
Water, Sunscreen, Bug spray
Colorado Outdoors Magazines, Fishing the Grand Mesa
7 public access shooting bays from 40 to 200 yards for pistol, rifle, shotgun and archery.

21 special purpose event bays for competition and training events.

State-of-the-art shooting bays

Bay 1 is restricted to .22 rifle and airguns, and provides steel targets specifically designed for rimfire.
Bays 2, 3 and 4 are 50 yard bays and primarily intended for handgun/Pistol-Caliber Carbines (PCCs). They provide centerfire pistol caliber-rated steel targets.
Bays 5 and 6 are 100 yard bays primarily intended for centerfire rifle use, but may also be used for handgun/PCC. They provide rifle-rated steel out to 600+ yards.
Bay 7 is a 200 yard bay primarily intended for centerfire rifle, though handguns and PCCs may be used. It provides rifle-rated steel out to 600+ yards.
Bays 8 through 28 are available for group reservations and competitive events.
  Archery Bay 10-65 Yards
   Picnic pavilions with Wi-Fi internet access (reservation only)
   Full Wi-Fi capability on all shooting bays and picnic pavilions. 
   Comprehensive digital scoring system
Four courses

Chukar: 10 targets, beginner/traditional range, 40 yards and under, short loop.
Bighorn and Mule Deer: 20 targets each, about a mile loop.
Mountain Lion (Extreme): 20 targets, 9-100+ yards, two mile loop.
Two courses

South course has 15 stations
North course has 8 stations 

5-Stand
35 targets from 100 to 2,003 yards
Targets are equipped with electronic hit indicators (flashers)
Elevation: 5,300 feet