Multiple ranges (50-200 yards) for rifle​, shotgun, pistol & archery for both public and permitted use.


Bay 1 is restricted to .22 rifle and airguns, and provides steel targets specifically designed for rimfire.
Bays 2, 3 and 4 are 50 yard bays and primarily intended for handgun/Pistol-Caliber Carbines (PCCs). They provide centerfire pistol caliber-rated steel targets.
Bays 5 and 6 are 100 yard bays primarily intended for centerfire rifle use, but may also be used for handgun/PCC. They provide rifle-rated steel out to 100+ yards.
Bay 7 is a 200 yard bay primarily intended for centerfire rifle, though handguns and PCCs may be used. It provides rifle-rated steel out to 200+ yards.
Bays 8 through 20 are available for group reservations and competitive events.
Archery Bay 10-65 Yards
Steel Target Map for Bays 5, 6 & 7
The steel targets above bays 5, 6 and 7 have been photographed  and ranged. Four different rangefinders were used to range and verify each target to insure accuracy.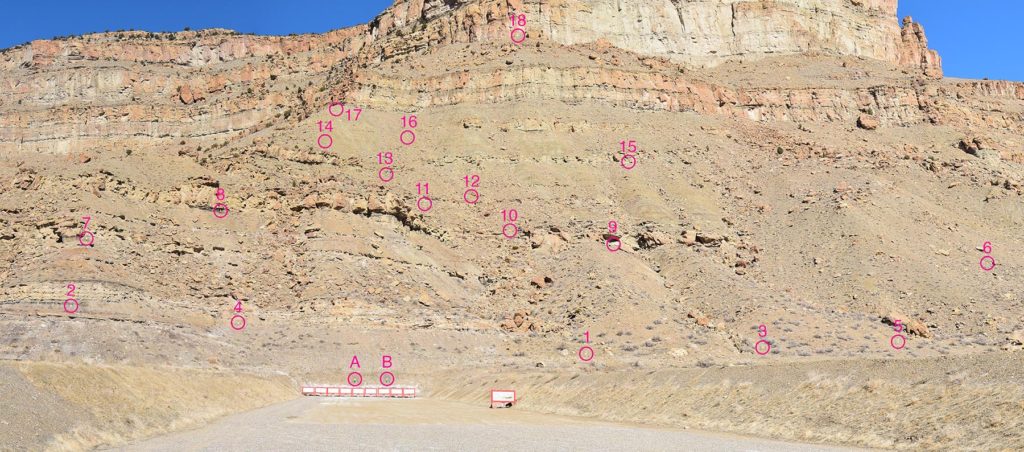 A printable PDF of the target map is available here.
A printable list of the target ranges from bays 5, 6 and 7 is available here.
While the map was imaged from Bay 7, the targets were ranged from each of the three bays. As noted on the list, several targets are visible only from Bay 7. The targets labelled A and B correspond to the pair of targets at the end of each of these bays. In addition to the Line of Sight (LOS) range, the angle is also given, and the true range (Angle Modified Range) has been calculated and is shown on the chart.