Heligunner is coming to Cameo again!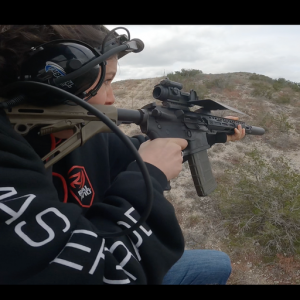 On April 22nd through April 25th, Heligunner will be offering flights at Cameo.
If you have never engaged targets with a suppressed M4 short-barreled carbine from a moving helicopter, you don't know what you are missing. Jeremy Stillman and his crew will take you on a flight through the twisting canyons of the CSEC LRP Terrain Park where you will engage a series of targets, including an automobile.
The video below shows a flight over the flat terrain of Texas. The flights here at Cameo are through the mountains.
For the Pre AGAG conference flights on April 22nd or 23rd, book your flight at: http://heligunner.com/book/Aerial-Gunnery-at-CSEC-2023-c126989546
For the AGAG conference flights on April 24th or 25th, book your flight at: http://heligunner.com/book/Aerial-Gunnery-at-AGAG-Conference-2023-c126991038
Details:
Pre AGAG Gunnery Package: Hop on board our helicopter for an awesome adventure shooting steel targets with a short barrel, suppressed M4/AR15 Rifle! You do a dry run down the gunnery range to get familiar with the course, then two live fire passes down the course engaging steel targets, approximately 10 minutes flights. You should expect to stay for the entire duration of the session you sign up for. The session will begin with a group aircraft orientation and firearms overview, followed by a safety orientation and operations procedure, then we will begin flights.
* Due to aircraft restriction maximum participant weight is limited to 275 lbs *
Cost:  $295 per gunner
Firearm:  Use our short barrel, suppressed AR-15/M4 firearms chambered in 5.56, 50 rounds of ammo provided.
Date:  Saturday April 22nd, Sunday April 23rd
Hours:  9am-6pm
Location:  Cameo Shooting and Education Complex, 3934 I 9/10 Rd, Palisade, CO 81526
Participants:  Open to all shooters familiar with the AR-15 rifle age 18 or older.
A note from Heligunner:
Hello everyone, here is a brief (or maybe not so brief) update about the upcoming Heligunner session at the Cameo Shooting and Education Complex the 22nd through 25th.
We are looking forward to working with you and the CSEC staff to bring you an awesome experience.
A few things to note:
Arrive and be ready to go at the beginning of the session you signed up for, for example if you are in the Sunday Afternoon session which is scheduled form 12noon to 6pm, be there and ready at 12noon.
There will be a group safety brief will ALL participants of the session at the beginning of the session, you must be present to receive this safety brief and become familiarized with safe operations in and around our aircraft.
Once we start flying we will assign an order based on multiple factors, one of which will be weight, don't take it personally if we ask, we're just trying to balance out safety officers, fuel and shooters. You may be at the beginning of the order and have the option of leaving earlier than others since you have already flown, or you can stick around and cheer on your fellow classmates. A few of you mentioned that you have other events going on, please remind us during the session and roster creating of those obligations so we can make sure and accommodate you.
Wear appropriate range apparel, that means closed toed shoes. In addition it is strongly advised not to wear any loose clothing in the aircraft, as it will flap in the wind and be more of a distraction and nuisance to you as a shooter.
We will ask that you remove any and all loose items prior to going up in the aircraft, this means taking everything out of your pockets, removing your hat, scarf, sombrero or bonnet. Glasses and safety glasses are ok to wear as the headset we provide you will help hold those in place.
You do NOT need to bring any hearing protection, we are using suppressed firearms and you will be wearing an aviation headset so you can hear our staff talking to you. You CAN wear in ear hearing protection (foamies) underneath the headset if you have extremely sensitive hearing and feel that you would benefit from addition noise suppression.
Cameras/Gopros. If you have the ability to secure a gopro to yourself, such as a chest rig, you can wear it. A head mounted gopro is "allowed" but due to the configuration in  the aircraft if you are over 5'5" it will probably just be filming the roof of the helicopter, and will inhibit your ability to lean out of the aircraft to get a better shooting position.
We provide firearms and ammunition. Our firearms are AR15 style rifles with non-magnified red dot optics and suppressors.
It may sound like a lot of information, but all you need to do is show up appropriately dressed, we'll give you a chance to see the aircraft, practice some muzzle down reloads, answer questions and get you into the air!
Feel free to respond to this email with any questions you may have.
Jeremy Stillman
512-538-8512