Events at the Cameo Shooting and Education Complex
For a quick summary of the events coming up this year, see the new Events Page
---
2021 CMDA 2nd Annual 3-D Archery Shoot
February 26, 2021: 
---
Shoot from a Moving Helicopter: Aerial Gunnery at Cameo on April 24th & 25th

February 24, 2021: Have you ever wanted to shoot targets from a moving helicopter?
Hop on board a helicopter for an awesome adventure shooting steel targets with a short barrel, suppressed M4/AR15 Rifle! You do a dry run down the gunnery range to get familiar with the course, then two live fire passes down the course engaging steel targets, for approximately 10 minutes of flight.  The session will begin with a group aircraft orientation and firearms overview, followed by a safety orientation and operations procedure, then flights will begin.
* Due to aircraft restriction maximum participant weight is limited to 275 lbs *
Cost:  $275 per gunner
Firearm:  Use the provided short barrel, suppressed AR-15/M4 firearms chambered in 5.56, 50 rounds of ammo provided.
Date:  Saturday April 24th & Sunday April 25th 2021
Hours:  9am-5pm
Location:  Cameo Shooting and Education Complex, 3934 I 9/10 Rd, Palisade, CO 81526
Participants:  Open to all shooters familiar with the AR-15 rifle age 18 or older.
To sign up and for more info: click here
Firearm and ammunition are provided
---
The New Cameo Shooting and Education Complex Weather Station is Live
February 22, 2021: The new weather station is now on-line. The weather station is accessible via a widget at the bottom of each page on this website, as well as through either of two services:
On the Ambient Weather site, as well as on the widget, you can scroll through all the weather data.
The weather station is available on the Wunderground weather app for your cell phone as KCODEBEQ19, and includes weather forecasts for CSEC.
In the near future, a second weather station will be installed at the firing line on the LRP.
For more information, checkout our weather station page.
---
Subscribe to the Cameo Shooting and Education Complex Newsletter
February 22, 2021: From time-to-time CSEC will be making announcements via an email newsletter. You can subscribe to the newsletter here:
---
Koenig-Ruger Precision Rifle Competition is coming to CSEC on June 12th-13th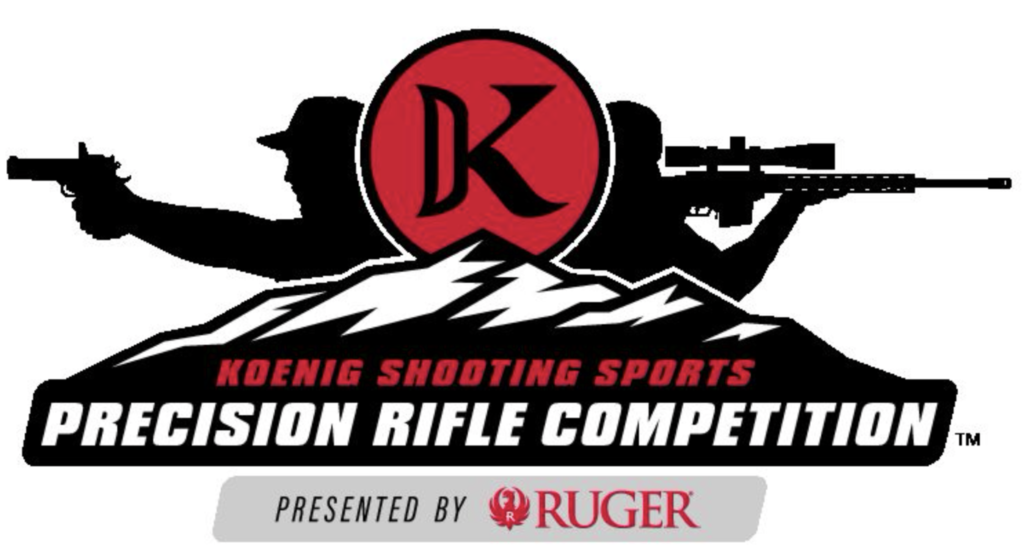 February 5, 2021: Eighteen-time Bianchi Cup winner Doug Koenig in conjunction with Ruger will be hosting a Precision Rifle Series match at CSEC on June 12 and 13. This will be a field style course with natural terrain and elevations. If you are looking to test your Precision Rifle skills on a challenging course of fire, at an awesome facility, this is the match for you!
More information coming soon!
Registration opens on February 11.
More about Doug Koenig:
Has won more than 70 National Championships
10-time World Champion
18-time Bianchi Cup winner
2016 NRA World Shooting Champion
5 European Bianchi Cup wins
20-time Masters International Championship winner
22-time Sportsman's Team Challenge Open Champion
8-time NRA World Action Pistol Championship winner
Achieved more Perfect Score's (1920) than anyone in NRA Action Pistol history
3-time World Speed Shooting Champion/Steel Challenge
---
3-D Archery Shoot to be Held on April 17th-18th
February 4, 2021: Colorado Bowhunters Association is holding a 3D-Shoot at CSEC on April 17 & 18th. For more information click here:  Cameo CBA 2021
---
Training with Rob Leatham and Mike Seeklander
January 12, 2021: We are excited to announce that multi-time World and National Champions, Rob Leatham and Mike Seeklander will be teaching two classes in conjunction with this year's Rocky Mountain Regional match! The first will be a 2 day Competition Skills Class taught on Thursday and Friday before the match and the second will be a 1 day class taught on Monday following the match. There is plenty of ammo at Cameo to pre-purchase for the event and the classes. First come first served….when it's gone it's gone! Go the links below for more information and to register:
---
The Maintenance and Services Building is Open
December 31, 2020: The new Maintenance and Services Building is open. This new building provides the visitor check-in center, retail space and offices as well as a storage and maintenance facility for our fleet of 38 Kawasaki Mule 4x4s.
Check-in has been moved to the new building as of this week.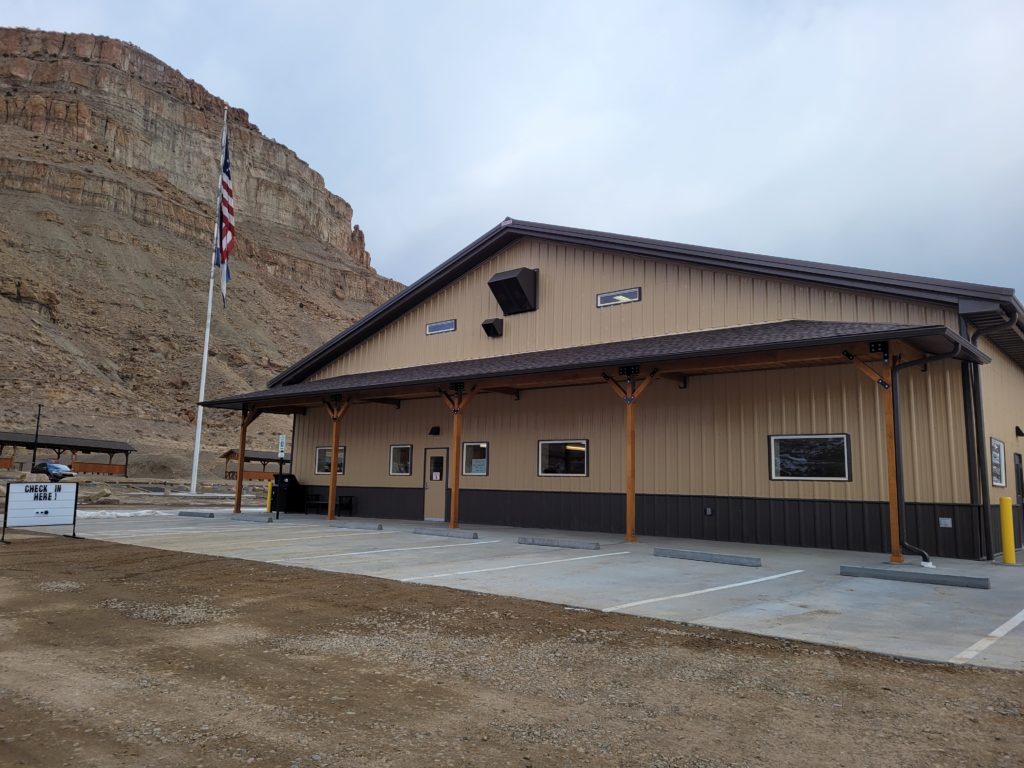 ---
We are Now Offering a Chronograph Service
November 28, 2020: Have a load for your rifle or pistol for which you want to know its actual velocity through your gun? CSEC is now offering a chronograph service. See the Chronograph Service page for more details.
---
Eight New Steel Targets Added to the LRP
November 20, 2020: We have added eight new steel targets to the Long Range Precision Range. The targets fill in the gaps between 1,000 yards and 2,000 yards and are located at:
1100 yards
1200 yards
1300 yards
1400 yards
1500 yards
1600 yards
1700 yards
1900 yards
Each target is 24″ x 24″ and will be equipped with an electronic hit-indicating flasher like the rest of the LRP targets.
---
Winter Hours Are Now In Effect
October 15, 2020: CSEC is open from 8:00 AM until 4:00 PM daily.
Sporting Clays  courses are open from 8:00 AM until 3:30 PM.
---
2021 Wilson Combat Rocky Mountain Regional IDPA Championship to be Held May 27-May30, 2021
October 15, 2020:  The 2021 RMR is already filling up!
We are already more than a third full folks! We have people pre purchasing ammunition as well and this will be a great asset for those of you who have doubts regarding ammo availability for next year. The pricing right now for 9mm at Cameo is at $14/box of 50 and we currently have a good supply of both Winchester 115 grain white box and 115 grain Blazer Brass. It can be pre-purchased and put on a shelf with your name on it for your arrival in May by calling (970) 464-1339. We also have several people planning to take advantage of shooting over two days with staff and then traveling to Dallas on Saturday to shoot the TX State match there on Sunday! That's 30 stages in 4 days earning 6 nationals points!!
Spots are filling up quickly folks! If you know that you are going to want to shoot this match, you should jump on it now! This is especially true if you want to squad with other specific shooters! Once it is full, there is little chance of juggling squads to accommodate your requests. We can't wait to see you here for this "MEGA REGIONAL EVENT"!!!!
link below to register:
https://practiscore.com/2021-wilson-combat-rocky-m…/register
---
189 Shooters competed in the 2020 Wilson Combat Rocky Mountain Regional IDPA Match
August 25, 2020: 189 competitors converged on the Cameo Shooting and Education Complex to compete in the 2020 Wilson Combat Rocky Mountain Regional IDPA Match. Following carefully crafted social distancing rules, the shooters safely engaged in 15 stages of intense competition.
The staff shot the match on Friday, and the bulk of the competitors shot it over Saturday and Sunday. The opening ceremony on Saturday morning included a Jimi Hendrix-style rendition of "The Star Spangled Banner" played on an electric guitar, followed by a group of base jumpers, jumping from the top of the mountain behind the range. Pictures of the opening ceremony base jump are available here.
A favorite stage, called "Pool Hall in El Paso" had the shooter stroking a pool cue which activated a pair of disappearing targets on opposite sides of the shooter.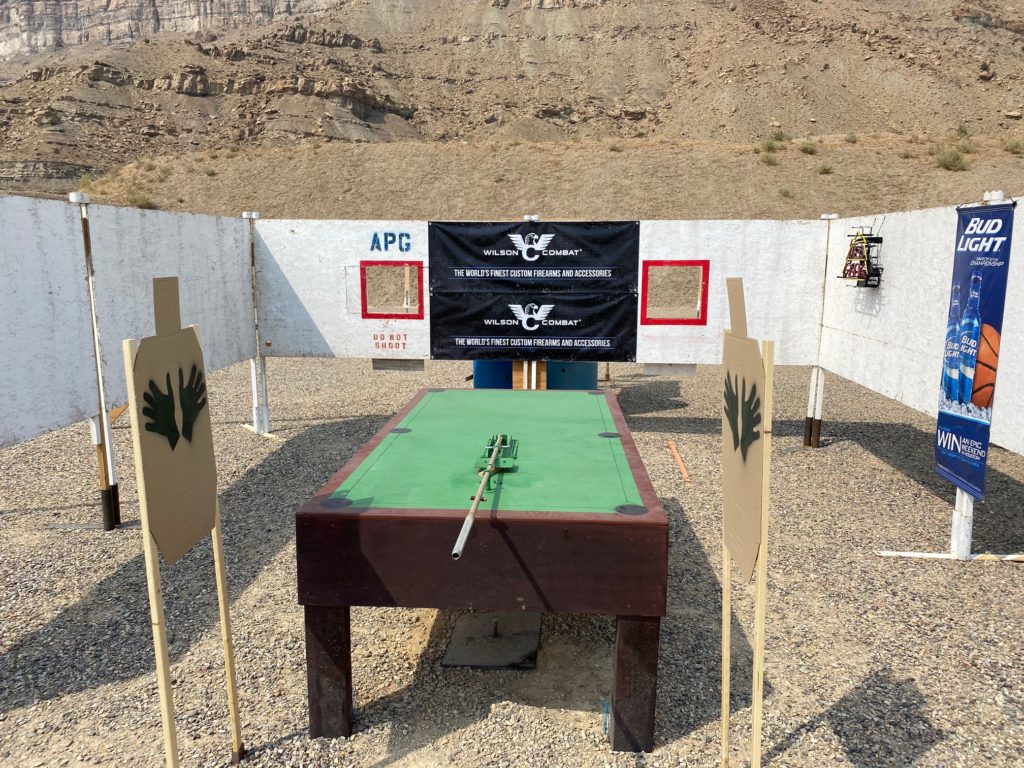 Another stage, "Road Trip Rest Stop", had the competitor starting seated in a car, from which he had to exit and engage multiple targets.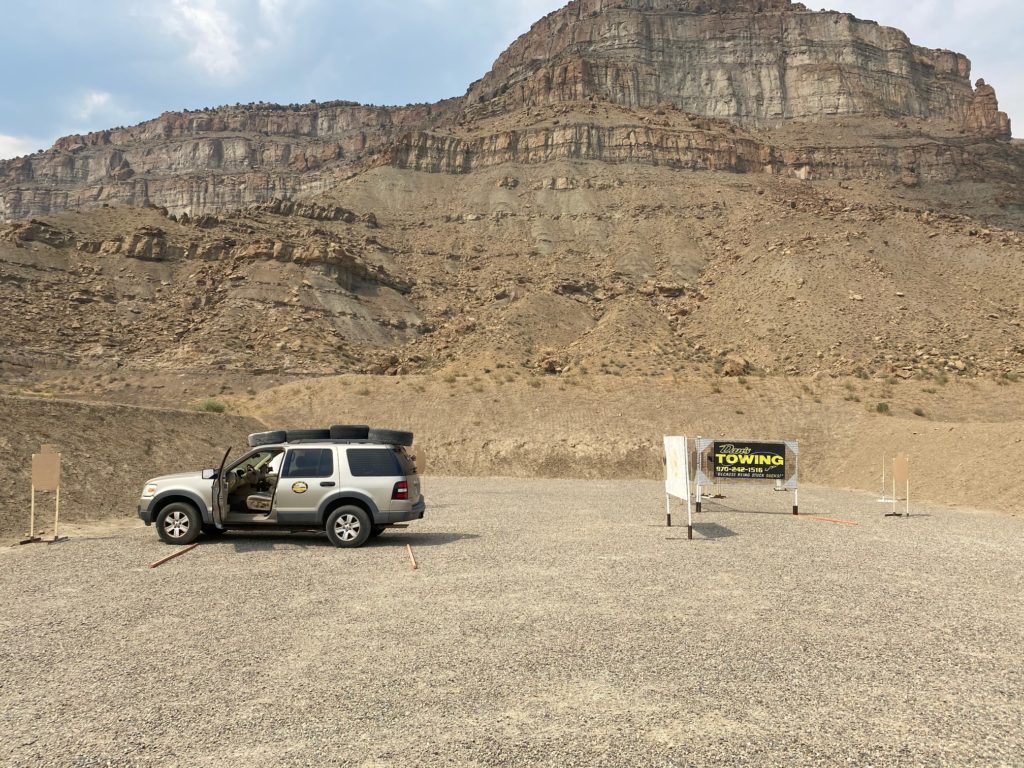 Stages like this challenged each competitor's dexterity, accuracy and speed.
Looking forward to next year's RMR!
The final scores are available on Practiscore.
---
All Four 3D Archery Loops are Now Open
August 18, 2020: 3D Archery Loops are walking courses to shoot life size animal targets that are great for practicing for hunting scenarios. We currently have four loops with a variety of difficulties.
The Chukar loop is only 10 targets that are 40 yards and under.  A very short loop that is great for traditional archers, families, kids, beginners, or a quick practice.
The Bighorn loop with 20 targets is one of our original loops that is the easier of the three loops with 20 targets at just under a mile long.
The Mule Deer loop with 20 targets has great elevation changes, and more trees. This loop is just over a mile and has some longer shots.
The Mountain Lion (Extreme) loop with 20 targets is two miles of strenuous hiking that takes several hours to shoot. This loop has mostly long shots, targets range from 9 yards to 112 yards.
---
Colorado Mule Deer Association Archery Tournament hosts 55 Archers
August 18, 2020: Colorado Mule Deer Association hosted their CMDA Archery Tournament 2020 on August 15. It was a successful event. A bit warm and smokey. It was well worth the fun, and great prep for archery season! They had awesome raffle prizes and winner buckles. Sasquatch was set up at 100+ yards to raffle off a VRX Matthews Bow! There was a delicious lunch by Have Cooker Will Travel. Some tested their skills at shooting moving targets in the air with the Laporte archery thrower. All around a great 3D archery shoot, thanks to CMDA!
Click on the image below to see a slideshow:
---
Hornady Precision Hunter Steel Challenge Match was a big success!

August 10, 2020:  Hornady  Precision Hunter Steel Challenge Match was held in the new Terrain Park at CSEC on August 7, 8 and 9.  117 shooters completed the course of fire which encompassed 20 stages going out as far as 1,000 yards. Though temperatures were a bit on the hot side, winds were very light and variable. The stages were very challenging, testing the competitor's ability to navigate difficult terrain and to acquire and range the targets and get hits quickly.
Shooters were spread out over the entire Terrain Park, making social distancing very easy.
The prize table was extensive, with a lot of sponsors being very generous with the prizes.
Here is a video Review of the match.
Hopefully we will see this match held here again next year.
---
New CSEC Fee Structure Announced
July 17, 2020: The Cameo Shooting and Education Complex has announced a new revised and simplified fee structure. Details can be found on the Fee Structure page on this website.
---
It is Now Possible to Schedule Use of the Long Range Precision Course on a Non-Public Day
July 17,2020: Users wishing to use the LRP on days other than the scheduled public days may now do so. Scheduling must be done a week in advance to provide time to schedule a Range Safety Officer. The fee is $120 or $10 per shooter whichever is greater. Payment of at least $120 due upon scheduling . Scheduling is subject to availability of range and Range Safety Officers.  Call the Range Office at (970) 464-1339 to schedule.
---
Sporting Clays Courses Are Open!
June 29, 2020: Are you ready to try the sport that some people say is "like golf with guns?" Colorado Parks and Wildlife's Cameo Shooting and Education Complex (CSEC) has two new sporting clays courses that are now open to the public.
These courses were crafted by legendary designer Neil Chadwick, who was inducted into the National Sporting Clays Association Hall of Fame in 2016. Chadwick and equipment guru Corey Howell of Howell Shooting Supplies thoughtfully laid out the two courses to challenge all levels of shooters. The South Course has 15 shooting stations, while the North Course has eight stations. Each station features trap shooting launchers which are hidden by the rugged terrain at Cameo making for an exciting outing for shotgunners from around the world.
The sporting clays course cost is 40 cents per clay (plus tax) or 30 cents per clay for annual pass holders.
"This is really a world-class shooting facility right here in the Grand Valley," said Walt Proulx, CPW Range Coordinator. "Because COVID restrictions have limited international visitors and postponed some of the national events at the site, now is a great time for people in the area to check out what we've got to offer."
Sporting clays courses are open from 8 a.m. to 6 p.m. Reservations are not currently needed and courses are available on a first-come-first-served basis. Side-by-side OHVs which seat six people are available to rent for $20 per day. Shooters will need to bring their own shotguns and ammunition (7 1/2 or smaller shot, 2 3/4 inch shells – no magnums). Full Sporting Clays Range Rules are available here.
See the full  Press Release

Sporting Clays Hours
Open an hour later and close an hour earlier than regular business hours.
Summer Hours: 8am-6pm
Winter hours: 9am-3pm
---
LRP Master Challenge
May 5, 2020: Do you seek the ultimate long-rage and extreme long-range challenge? Come try the LRP Master Challenge. In this contest you will be required to get a hit on each and every target on the LRP range. 27 targets range from 100 to 2,003 yards. And that last target is an 18″x24″ IPSC torso.
For more details, check out the LRP Master Challenge page.
---
Long Ranger Club

May 2, 2020: To celebrate the long-range and extreme long-range achievements of our shooters we have instituted the Long Ranger Club. Shooters achieving hits on select targets that are witnessed by a CSEC RSO or CSEC staff will be awarded a certificate as follows:
Gold – 2,000 yards
Silver – 1,760 yards (one mile)
Bronze – 1,000 yards
In addition, their achievement will be recorded and listed on the Long Ranger Club page for bragging rights.
---
 Fired brass available for sale at CSEC office
March 30, 2020: CSEC has fired range brass in 10 pound bags available at the range office. The brass is available in a number of pistol and rifle calibers. See the Range Office page for details.